Custom Kitchens Sans Souci
Build your Custom Kitchens in Sans Souci with BOSJoinery
Infuse life into your kitchen with perfect and flawless renovation work. If you are thinking of upgrading the looks of your kitchen and making it more spacious, you need to get a kitchen renovation. Customisation of the kitchen renovations is important as you will get exactly what you need. In Sans Souci, we are one of the reliable and reputed kitchen renovators and provide all sorts of renovation works related to kitchens.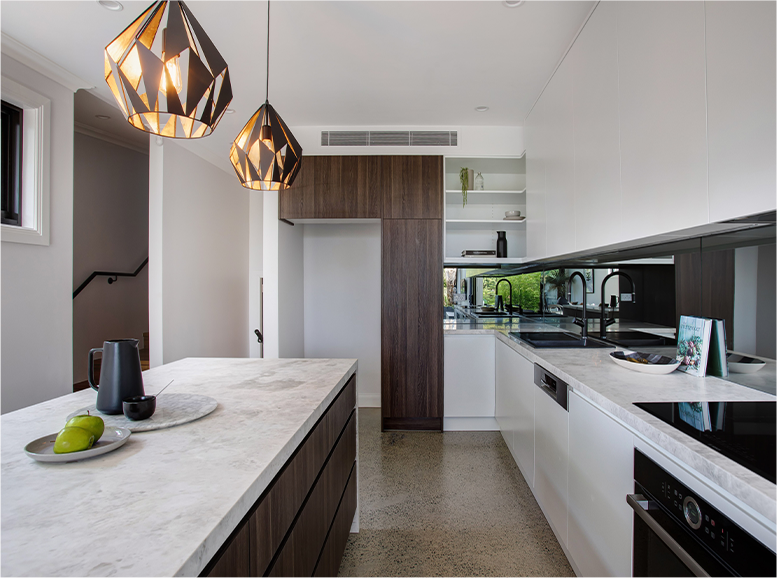 We Strive to bring in Smiles with Style!
The two main parameters upon which our renovation of kitchens are based on- style and aesthetic beauty. Each of our kitchens is exclusively designed to perfection. Our professionals make sure that these kitchens not only reflect who you are but should also stand out for the taste of time. It should have the best styling and aesthetic beauty meeting your requirements.
Our Streamlined Approach for a 100% Perfect Kitchen Interior
Perfection is something that truly matters to us. Therefore, as we have been in this industry for years, we have acquired the best knowledge and advanced methodologies that will help us to deliver to you a 100% custom and perfect kitchen. We follow a strict working timeframe that helps us during our job of renovating the kitchens. The following are some of them:


Inspection

We believe that without an inspection, no technical work can be carried forward. Therefore, whenever we get a request in Sans Souci related to kitchen renovation, we prefer visiting the site to get an idea of how things will progress.

Planning

Based on the inspection by the professionals, we plan out the design of all custom kitchens. We seek help from you as well in getting things placed inside the kitchen. We continue with the planning and research until not only you but also we are satisfied. It is one of the most important phases of kitchen renovation because the entire profit/loss of the project is based on this stage.

Installation

Irrespective of how well we have planned for your custom kitchen, unless it is installed correctly, the idea of a dream kitchen will remain confined to paper. Hence, to get those things done properly we assign the project to teams under the supervision of dedicated coordinators. All the kitchens in Sans Souci which are built by us follow the same pattern. This makes things easy for everyone.
Why Choose

To Buy a DIY Flat Pack Kitchen
1.

Top quality materials

2.

Specialized luxury kitchen design

3.

A kitchen based on your lifestyle and needs Shadowline, Traditional, Polyurethane Laminate

4.

Quick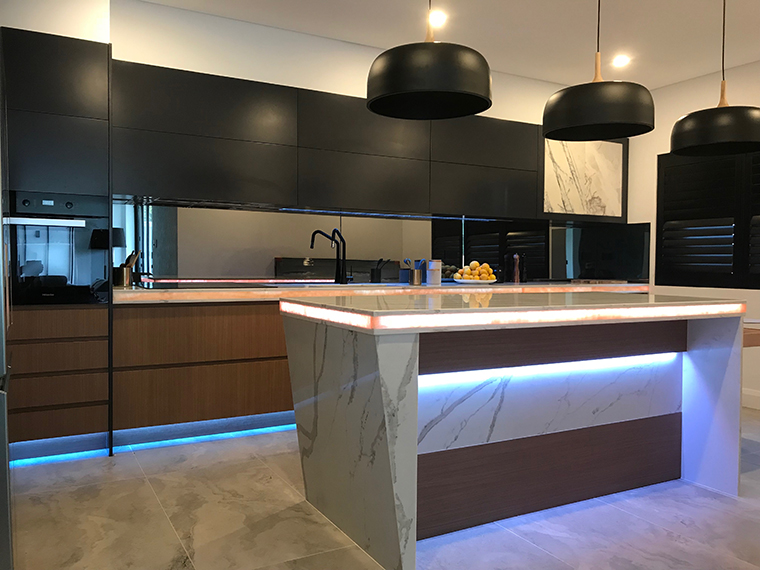 5.

Economic

6.

Easy! Detailed design and purchase online!

7.

Showroom available to have a look at kitchen styles and samples.

8.

Assembly easy and quick with innovative Tongue and Groove for extremely strong construction.
Your Dream Kitchen is Ready!!
Yes, with so many days of hard work, planning, and dedication, your dream kitchen will be ready before you know it. We provide every element of the kitchen - cabinets to plumbing and electrical to make sure that you get a kitchen that is incomparable both in terms of aesthetic beauty and comfort. A perfect thematic kitchen is now ready to welcome you.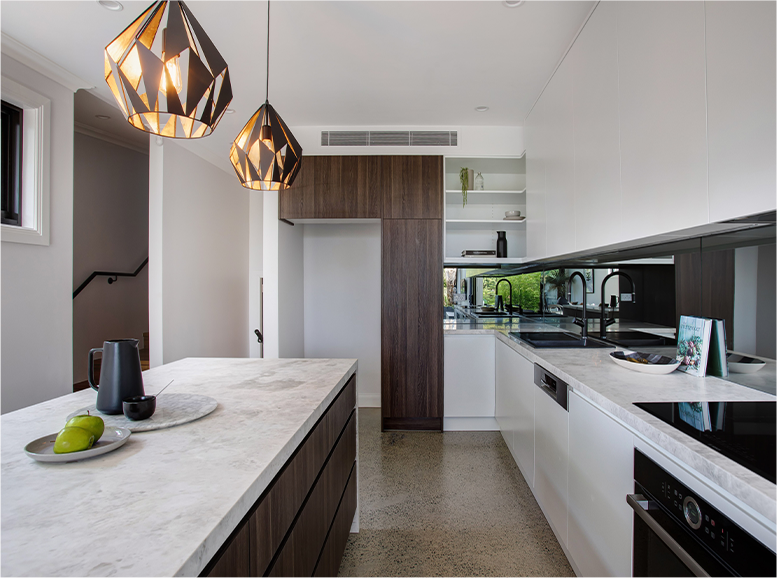 Own today DIY the kitchen of your dreams!
You can either choose from
Our flat pack complete range of our standard size and colour cabinets, flat pack or assembled.
custom made kitchen cabinets according to your needs flat pack or assembled in any colour or material ready for installation
We are NSW based service providers. Our clean and modern approach has helped transform hundreds of kitchens in Sans Souci. We combine design and colour to provide you with timeless kitchens at the best price. Get in touch with us for the best services. We are always there to help you to carve out the best kitchens in Sans Souci.