Welcome to NDIS Accessible Kitchen Solutions -
Your Partner in Accessible Kitchens
At NDIS Accessible Kitchen Solutions, we believe that a well-designed and accessible kitchen is more than just a place to prepare meals. It's the heart of the home, a space where independence, functionality, and inclusivity converge. We are proud to introduce you to our specialized kitchen construction services tailored for NDIS (National Disability Insurance Scheme) participants, builders or individual citizens with special needs or the elderly with slow mobility and difficulties in the operation of the kitchen.
NDIS Accessible Kitchen Solutions by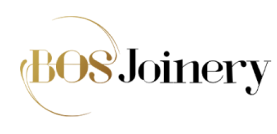 About Bos Joinery
With a rich legacy spanning three decades in kitchen construction and joinery, Bos joinery is a name synonymous with craftsmanship, quality, and innovation. For 25 years, our company thrived in Europe, and over the last decade, we've proudly continued our journey of excellence in Australia. Today, we stand at the intersection of expertise and compassion, dedicating ourselves wholeheartedly to the creation of kitchens that transform lives.
Bos joinery embarked on a journey fuelled by a relentless pursuit of perfection. Over the years, our skilled artisans and visionary designers have crafted kitchens that are not just functional spaces but also places of inspiration and comfort. With a diverse portfolio of successful projects, we've honed our craft, embracing new technologies and design trends while holding steadfast to our commitment to quality.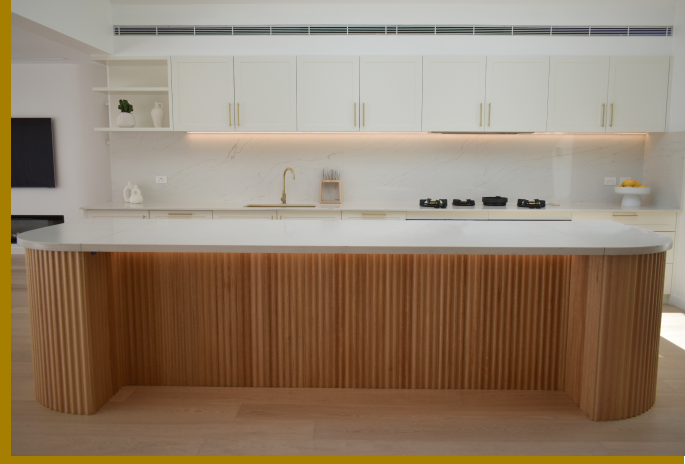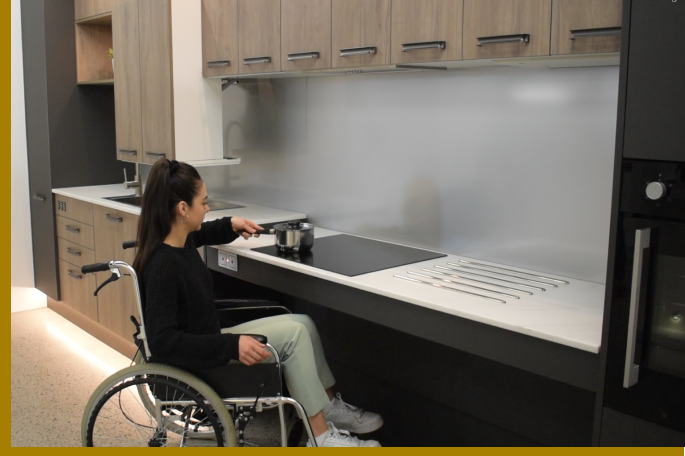 In 2023, something profound changed within us as a company and we established a new department specializing in kitchens for people with disabilities.
We made a collective decision, guided by our unwavering passion for making a difference. Our hearts led us to a transformative mission — to provide accessible kitchen solutions that empower people with disabilities and enhance their quality of life. This decision was not just about business, it was about making a meaningful impact on our fellow human beings.
Kitchen Solutions:
Welcome to our "Accessible Kitchen Solutions" section, where we specialize in revolutionizing kitchen spaces, particularly with the unique needs of NDIS (National Disability Insurance Scheme) participants in mind. At NDIS Accessible Kitchen Solutions, we take pride in integrating cutting-edge European mechanisms to provide a kitchen experience that is not only functional but also remarkably accessible
Ropox Verti Electric Wall
Imagine wall cabinets that gracefully descend to the countertop height, offering easy access to your kitchen essentials. Our precision-engineered German mechanisms make reaching for items effortless, providing a newfound level of convenience for NDIS participants.
Ropox Flexi Adjustable Benchtops
Experience the future of accessible kitchen design with our customizable benchtops that smoothly move up and down. Whether you require a lowered surface for wheelchair accessibility or a raised countertop for food preparation, our adaptable systems cater to your specific requirements.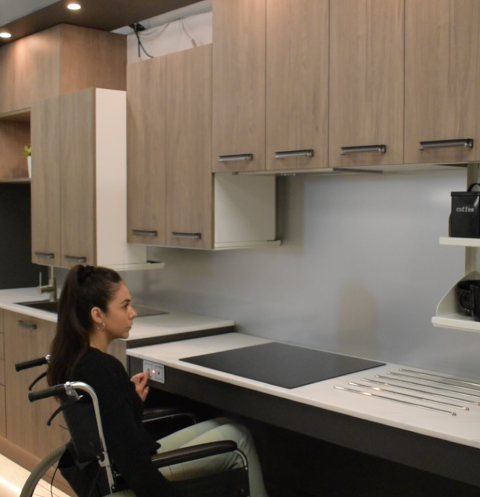 Adjustable height Cooktop and Sink
Our innovative solutions extend to your cooktop and sink, addressing the unique needs of NDIS participants. These smart appliances can be effortlessly raised or lowered, ensuring that cooking and cleaning become more convenient and accessible than ever before.
Bluetooth operation rangehood
In our commitment to enhancing accessibility and convenience, we've introduced an innovative solution into our kitchen designs. Our rangehoods are seamlessly synchronized with Bluetooth-enabled cooktops. This integration ensures that individuals using wheelchairs can control the rangehood without needing to reach any physical buttons. With this technology, you can effortlessly adjust fan speeds, activate extraction modes, and manage ventilation settings directly from your Bluetooth-enabled cooktop, providing a hands-free and user-friendly experience. This innovation reflects our dedication to creating kitchens that empower individuals to manage their cooking environments with ease and independence.
European Precision, Licenced Accessibility
The core of our accessible kitchen solutions lies in the meticulous engineering and precision craftsmanship from Denmark. We've partnered with leading European manufacturers to bring you state-of-the-art mechanisms designed to enhance the daily lives of NDIS participants.
The products they offer are of such high quality that they come with a lifetime warranty for all metal components. As for our kitchens, they are entirely made in Australia, based in Sydney, using reputable local materials.
All kitchen components, including drawers, hinges, and more, are European products and are backed by a lifetime warranty.
Our commitment to staying at the forefront of technology ensures that your kitchen is not just functional but also a testament to inclusive design. We understand the importance of a kitchen that seamlessly adapts to the needs of NDIS participants, empowering independence and convenience.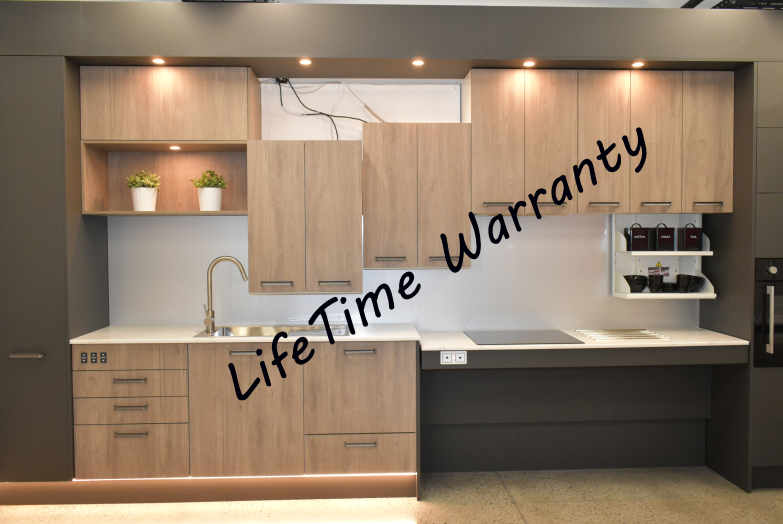 NDIS Design for Building Solution
In the realm of design, Bos Joinery has studied and designed four kitchen models that faithfully adhere to certification rules, covering almost all types of rooms, such as S (STRAIGHT), U (U SHAPE), L (L SHAPE), and Gallery (INCLUDING ADJUSTABLE ISLAND) shaped kitchens.
We provide all the necessary instructions, such as power provisions, wall stability, and water supplies, to the responsible architect and builder to ensure the smooth progress of the project without delays due to technical mishaps and for a quick certification.
We are flexible and available to adapt the kitchen design according to the practical and financial needs of each client when deemed necessary.
Tailored Solutions for NDIS Participants
Our primary differentiator is our exclusive focus on serving NDIS (National Disability Insurance Scheme) participants. We understand the unique challenges and aspirations of this community, and every aspect of our service is meticulously crafted to cater to their needs.
We don't offer a one-size-fits-all approach. Instead, our services are deeply personalized, ensuring that each kitchen project reflects the individual's requirements, lifestyle and accessibility needs. This personalized approach distinguishes us from competitors who may not have the same level of specialization.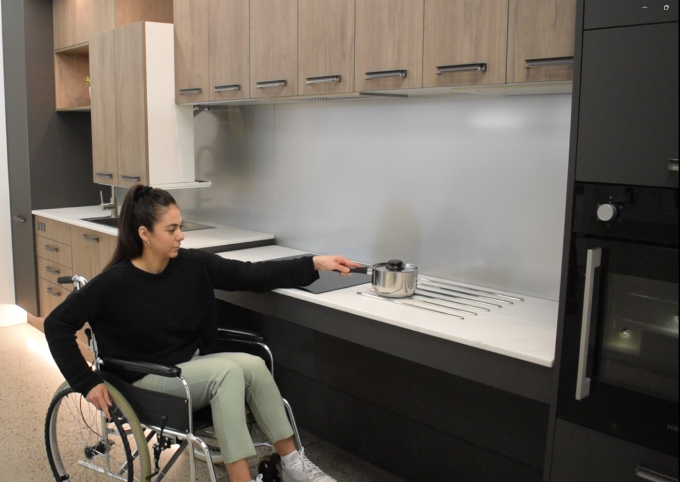 Why Choose NDIS Accessible Kitchen Solutions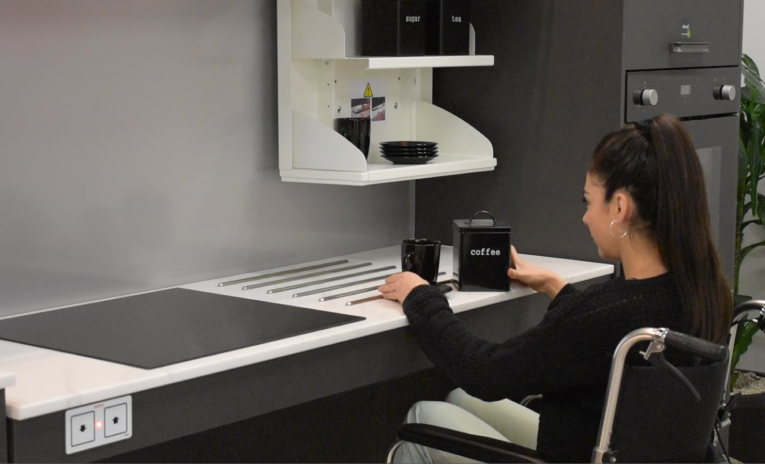 When you choose NDIS Accessible Kitchen Solutions, you're not just getting a kitchen construction service, you're gaining a trusted partner dedicated to enhancing your quality of life through accessible kitchen solutions. Our USP is all about delivering a level of personalized care and innovation that ensures every kitchen we create is a testament to accessibility and functionality
Join us in the journey to make daily living more convenient, independent, and enjoyable for NDIS participants. Experience the difference of a kitchen that's truly tailored to your needs, backed by our unwavering commitment to accessibility and functionality. Choose NDIS Accessible Kitchen Solutions for a kitchen that's uniquely yours.